Western Action Shooting is the fastest growing shooting sport in the world, and for very good reason. Come along and see for yourself. Internationally it is a very family-oriented activity, encouraging family-participation. Although our firearms restrictions make it more difficult here in New Zealand we try to retain as much of that family atmosphere as possible.
A Western Action shooting game will take place, using props which are intended to recreate scenes and scenarios from the Old West. Shooters using guns typical of the period such as the famous Colt 'Peacemaker' revolver shoot at large, easy-to-hit steel plates as targets. Participants learn skills with 3 different firearms – a revolver, a rifle and a shotgun. Western Action Shooting is specifically designed to be a 'fun' occasion.
To ensure that each event is good fun, the original designers of the Western Action Shooting competition specifically introduced a rule not commonly found in other shooting competitions called The Spirit of the Game.
Shooters are divided by age, equipment, powder, shooting style, costume and gender.
Junior – 16 years and under (Parental consent and supervision required)
Cowboy – Any age
Wrangler – 36 years and over
49's – 49 years and over
Senior – 60 years and over
Silver Senior – 65 years and over
Elder Statesman/Grand Dames – 70 years and over
Within these categories you can also have:
Duellist -Pistol cocked and fired with one hand (Black powder or Smokeless)
Gunfighter – One pistol in each hand, usually fired alternately
Depending on how you dress and what firearms you use, you also have "Classic Cowboy" and "B Western"
Black Powder falls into two categories, "Frontier cartridge", and "Frontiersman" with percussion pistols.
Based on the film of the same name, this started as a side event but is now a competition by itself.
Contestants use rifles over 40 calibre (Pistol calibre only), pump action shotguns and single stack 1911's in 45ACP.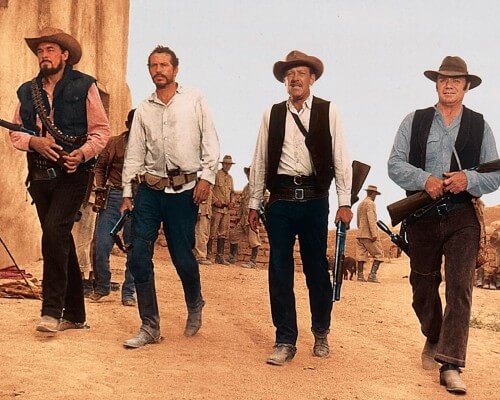 Firearms:
Shooters can use original firearms, manufactured during the early to late 1800s by Colt, Winchester, Remington, Smith & Wesson, Marlin, Sharps, Henry etc., as long as they are still in safe working condition. However, most shooters use reproduction versions of those. A number of manufacturers produce high-quality reproduction and replica firearms at reasonable prices. Ruger produce the Vaquero, a pistol designed for Cowboy Shooting and there are several 'Peacemaker' clones. Both Winchester and Marlin have recently produced a lever action rifle based on the old 1894 design in the original calibres of 44/40 and 45 Long Colt as well as some more modern calibres such as 357.
Clothing:
We put much emphasis on costuming because it adds so much to the uniqueness of the game and helps create a festive, informal atmosphere in the competitors. During major competitions all shooters must be in costume and we recommend that their invited guests and family also be costumed and even at weekly club shoots we try to look the part. Shooters must remain in costume at all match events, dinners, awards and ceremonies. Modern clothing such as designer jeans, baseball caps, plastic materials and any patches or logos are not allowed.
The NPPC wants our members to be safe, have fun, develop their shooting skills and enjoy the rich traditions of the Old West and those of colonial New Zealand. We invite you to join in the friendly spirit of competition and preservation of the heritage of the past.